This tutorial is for Workers, Users, and Admins.
There are three easy steps to entering time with the Weekly Timesheet.
You can visit the Weekly Time Sheet page by expanding the "Entries" menu item and clicking on "Weekly Time Sheet".
Step 1: Select your Customer and Activity
Select the Customer and Activity you want to enter your time under. Depending on your integration and subscription level, you may see some additional fields.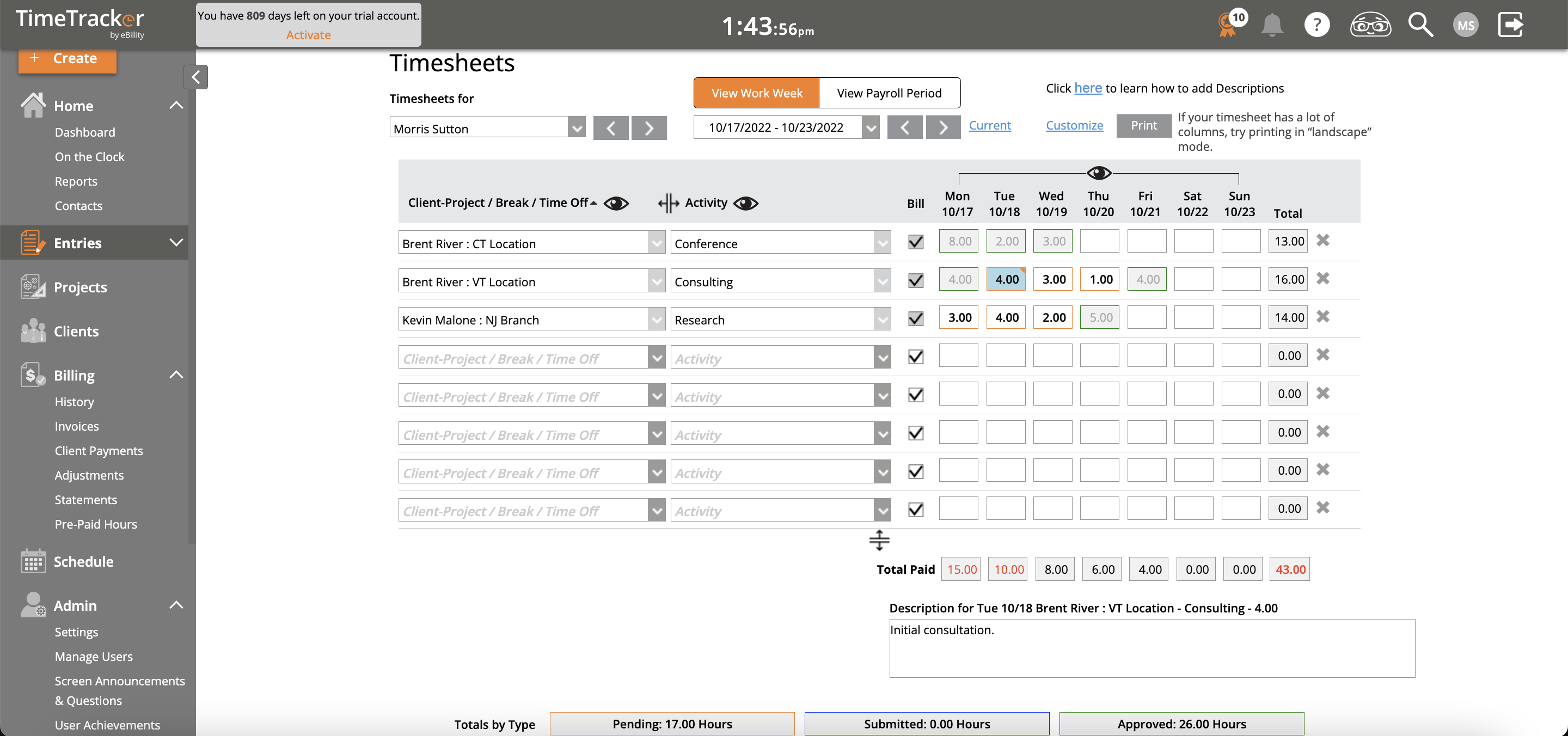 Then enter the total hours you did each day in each cell.
Click "Save" when you have made all your entries.
Step 2: Is it billable?
Make sure you select whether the item is billable.
If you don't mark items as billable, those entries won't be available to bill to clients. The time, however, could still be used to pay the employee who did the work.
So for Workers and Users—ask an Admin if you should enter your time entry as billable.
Step 3: "Pending"
After you save time in the Weekly Time Sheet, it goes into a "Pending" status.
If you are a Worker, you can still edit your hours while they are in "Pending status. You can submit your timesheets right on the same page by selecting the blue "Submit" button. Once your admin approves the time, you'll see your time entries highlighted in a green box. Once they have been approved, you can no longer make edits to that time entry.
On this page, you can also select different date ranges to view time entries made at other times. If you need to add extra time entry rows to the screen, you can grab the black arrows and pull down.
Helpful Tip:
You can enter time in two formats: 1) with a decimal, ex. 1.5 equals one and a half hours, or 2) with a colon, ex. 1:30 equals one and a half hours.